Finding Freedom: A Comprehensive Guide to Outpatient Substance Abuse Treatment at Pennsylvania Recovery Center
In a world where addiction can cast a shadow over even the brightest lives, hope shines through at Pennsylvania Recovery Center. Our unwavering commitment to helping individuals break free from the chains of substance abuse is exemplified in our comprehensive outpatient substance abuse treatment program. In this guide, we will delve into the transformative power of outpatient treatment, exploring its benefits, methods, and how it can pave the way to a life of recovery and fulfillment.
Understanding Outpatient Substance Abuse Treatment
Unraveling the Outpatient Treatment Approach Outpatient substance abuse treatment offers a flexible and effective path to recovery for those seeking support without the constraints of residential care. This approach allows individuals to maintain their daily responsibilities while receiving the critical care they need to overcome addiction.
The Benefits of Outpatient Treatment:
Flexibility: Maintain your daily routine, work commitments, and family obligations while undergoing treatment.
Personalized Care: Our experienced professionals create tailored treatment plans to address your unique needs and challenges.
Supportive Community: Engage with peers who share similar struggles, fostering a sense of belonging and understanding.
The Journey of Outpatient Treatment A Glimpse into the Outpatient Treatment Process
At Pennsylvania Recovery Center, our outpatient substance abuse treatment program is designed to guide you through every step of your recovery journey.
Comprehensive Therapeutic Approaches:
Individual Counseling: One-on-one sessions with our skilled therapists delve into the root causes of addiction and equip you with coping strategies.
Group Therapy: Connect with fellow participants, sharing experiences and insights in a supportive group setting.
Holistic Healing: Embrace mindfulness, yoga, and other holistic practices to nurture your physical, mental, and emotional well-being.
Success Stories: Realizing Recovery through Outpatient Treatment Witnessing the Transformative Power of Outpatient Care
Through the stories of our brave participants, we highlight the remarkable transformations that outpatient substance abuse treatment can facilitate.
From Struggle to Triumph:
John's Story: Overcoming a decade-long addiction, John found solace and strength in our outpatient program, mending relationships and rebuilding his life.
Sarah's Journey: Balancing work, family, and recovery, Sarah found hope and healing through our comprehensive treatment, inspiring others with her resilience.
Embracing a Bright Future Embracing Lifelong Recovery
The culmination of outpatient substance abuse treatment at Pennsylvania Recovery Center is not just sobriety; it's a renewed sense of purpose, self-discovery, and a future filled with endless possibilities.
Continued Support and Aftercare:
Alumni Programs: Stay connected with a supportive community, sharing experiences and providing guidance to those just starting their journey.
Ongoing Counseling: Access post-treatment counseling to navigate challenges and celebrate triumphs along your lifelong recovery path.
Addiction Treatment in Pennsylvania
At Pennsylvania Recovery Center, our outpatient substance abuse treatment program is more than a method—it's a lifeline to a brighter, healthier, addiction-free future. We invite you to take the first step toward lasting recovery by embracing the transformative power of outpatient care. Contact us today to embark on your journey towards a life of freedom, fulfillment, and genuine happiness.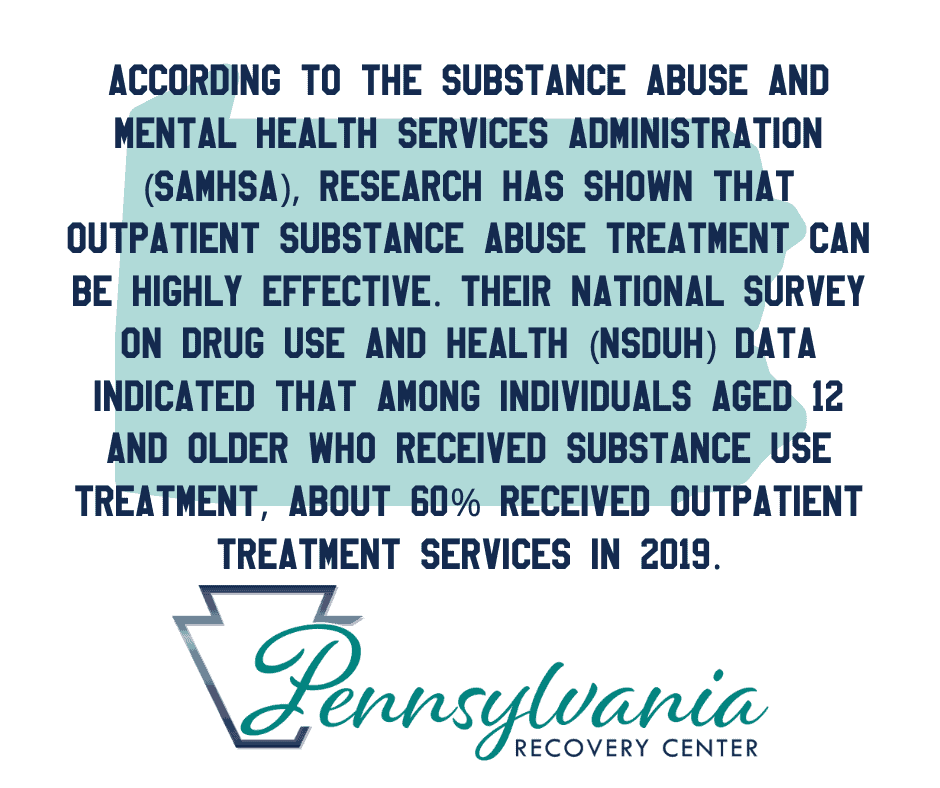 According to the Substance Abuse and Mental Health Services Administration (SAMHSA), research has shown that outpatient substance abuse treatment can be highly effective. Their National Survey on Drug Use and Health (NSDUH) data indicated that among individuals aged 12 and older who received substance use treatment, about 60% received outpatient treatment services in 2019.
Source: Substance Abuse and Mental Health Services Administration (SAMHSA). (2020). Key substance use and mental health indicators in the United States: Results from the 2019 National Survey on Drug Use and Health (HHS Publication No. PEP20-07-01-001, NSDUH Series H-55). Retrieved from https://www.samhsa.gov/data/sites/default/files/reports/rpt29393/2019NSDUHFFRPDFWHTML/2019NSDUHFFR1PDFW090120.pdf